SMD assembly
We carry out surface assembly in SMD technology on two assembly lines, which include:
MIRAE 200 LP pick & place machine, 5-zone furnace, loading and unloading station
MIRAE 200L pick & place machine, 9-zone furnace and a loading and unloading station
Our production lines are able to process over 4 million SDM elements within a month and are fully adapted to soldering in both lead and lead-free technology, thanks to which we can easily implement the most technologically advanced projects. We individually adjust the soldering process to each PCB.
The assembly is carried out in accordance with the current IPC-A610 standards. We assemble SMD components from size 0402 as well as QFN, uBGA, BGA, PLCC systems. After assembly, we perform an optical inspection of the assembled circuits, which allows us to obtain excellent quality of the service provided.
In order to provide our clients with the highest quality SMD assembly services, we use only the highest quality professional soldering pastes, adhesives and fluxes with appropriate approvals
In the case of prototype projects, we are able to perform assembly using manual assembly manipulators.
Technical requirements
The board on which the SMD components are mounted must contain optical reference points (fiducial). It can be a round point with a diameter of 1 mm (or a square with a side of 1 mm) with an additionally exposed solder mask with a diameter of 2-3 mm (or a square with a side of 2-3 mm). Other designs are also allowed. The reference point should be within each individual tile (in exceptional cases it may be on the technological margin). For elements with a very fine raster, local fiducials of 2 pieces near the corners are helpful. Moreover, the optimization of the assembly speed requires that small tiles be delivered in panels – forms consisting of several dozen tiles. The optimal size of the panel should be close to the A4 format and within 300 mm x 210 mm (250 mm). On tiles – pieces whose dimensions are from 600 mm to 1200 mm (e.g. LED strips) it is very important that there are more than 4 reference points (preferably every 200 mm – they can be on the margins). The package should have 5mm technological margins around or at least on the long sides. It is best to consult the size of the package and the arrangement of the tiles with the EL-MONT company. If the production takes place from elements supplied by the customer, it is advisable to send the components in original packaging, for small orders it is permissible to deliver the components in ribbons several dozen centimeters). Integrated circuits and other components intended for SMD assembly should be delivered in factory packaging, such as rails, trays or tapes (tape and reel). Due to the fact that some components may have housing defects (often they are missing ends, chipped edges, unglued elements, curved legs – the automats reject some of the components), therefore, it is necessary to provide an appropriate number of components with a 5% margin for small housings – but not less than 20 pcs. For larger housings, the stock should be 3-5 pcs.
We always return unused components to the customer.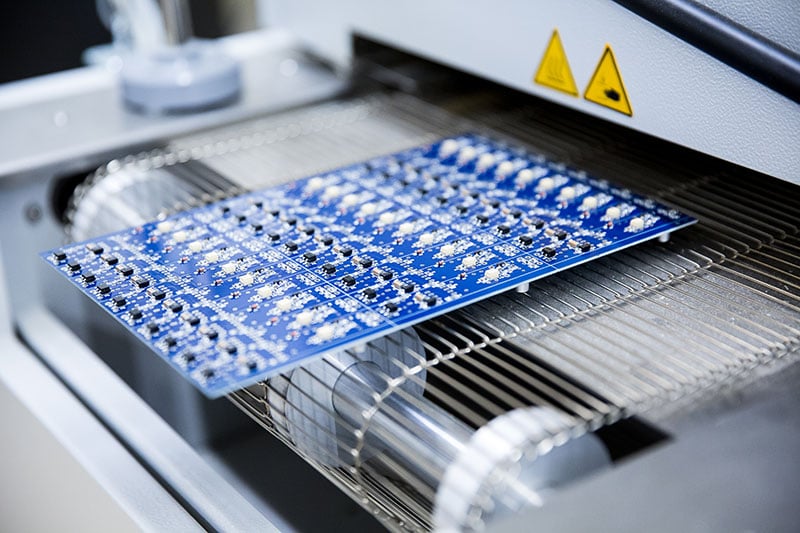 Our Advantages:
support for PCBs in the size of 1200mm x 460mm
professional machinery for surface mounting of SMD components
SMD assembly on single-sided and double-sided boards
the capacity of the production line is over 4 million components per month
washing the plates in a washer using ionic purity testing,
We easily mount:
all SMD components from size 0402
we also assemble elements in sizes from 01005 and 0201
systems: QFN, uBGA, BGA, PLCC
LED components
In the case of assembly of SMD components we do not charge for:
production start
connecting elements to the automat
lead-free soldering
optical inspection of devices
programming of the machine
We also specialize in THT assembly.
Check our offer: