THT Assembly
The assembly of reeving THT elements is carried out manually in accordance with the client's requirements with full ESD protection of workstations and operators. In our machine park we have a wide range of restraining devices. This ensures repeatability in the preparation of elements and the ability to handle large projects while maintaining a uniform level of performance. The assembled packages are soldered by machine using a solder wave. For special projects or at the client's individual request, we can carry out a manual soldering process on several stations in accordance with IPC standards. We make sure that our employees carefully and accurately fulfill our clients' orders. We know how important it is to understand the design and requirements, therefore we analyze every detail in detail in order to provide reliable THT assembly services.
Our inspection and control stations allow us to carry out ongoing verification of the production process. At the customer's request, using the inspection system, we are able to make photographic documentation of sensitive elements before placing the PCB in the housing or shipment.
Our company, after individual consultation with the client, also offers the possibility of conducting functional tests of the finished product. This guarantees the delivery of 100% working devices, ready for immediate operation.
We know how important the transport process is, so we make every effort to ensure that it is properly secured during transport. The methods of packing and shipping each product are agreed individually with the customer. The packaging process itself is monitored and subject to double verification.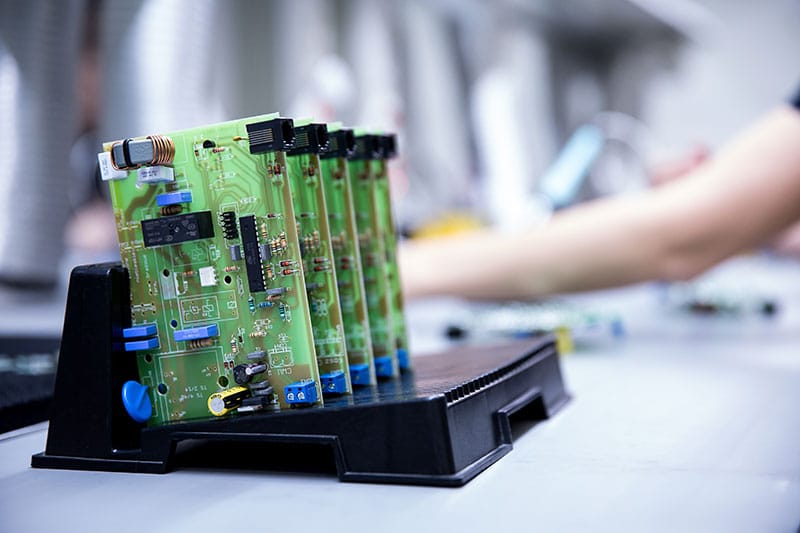 Our Advantages:
support for PCBs in all sizes
professional machinery for restraining THT elements
THT assembly on single-sided and double-sided plates
washing the plates in a washer using ionic purity testing,
programming and testing packages
As part of the offered THT assembly service, we implement the following stages:
Preparation of elements, automatic processing – cutting and bending.
Placement of elements – manual assembly and soldering.
Mounting on a solder wave (max. Wave width 200 mm)
Optical inspection of assembled packages
In the case of assembly of THT components we do not charge for:
production start
solder filler
optical inspection of devices
We also specialize in SMD assembly.
Check our offer: